Aichi

Health Plaza
Aichi Kenko-no-Mori Panoramic View MAP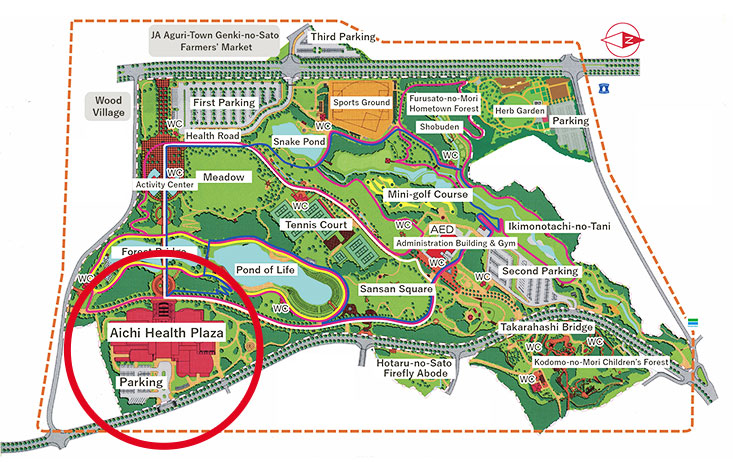 Aichi Health Plaza is comprised of Health Promotion Wing, where high quality health promotion is proposed and executed, as well as Health Accommodation Wing offering excellent and comfortable spaces for relaxation, and providing attentive support for health promotion for a wide range of generations, focusing on health from various perspectives
As a unique comprehensive health promotion center focusing on the implementation of Healthy Japan 21 New Aichi Plan on the prefectural and municipal levels, we strive to further the health promotion of all prefectural inhabitants through cooperation with relevant agencies and organizations
In addition to provision of training facilities (athletic room, jogging track, etc.), we also conduct various health promotion classes (one-day practice, regular practice and similar). All available facilities may be used upon undergoing health assessment
Information about Health

Promotion Wing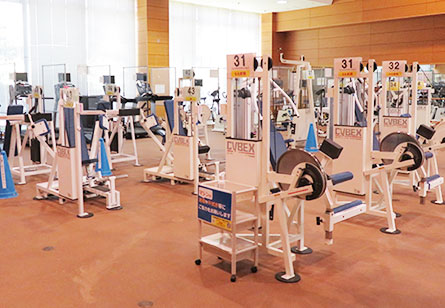 Athletic Room
A training facility furnished with various equipment for aerobic exercise and physical strength training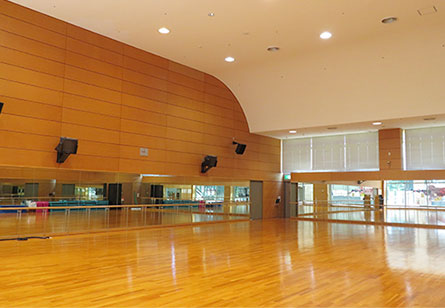 Fitness Room
Furnished with shock absorbing hardwood flooring, sound equipment and three-wall mirror upholstery. Perfect environment for dance lessons and similar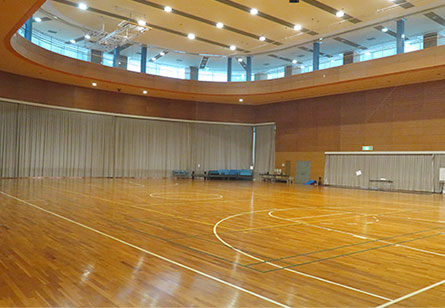 Recreational Gym
A gym that can be used for a wide variety of ball games and recreational sports
Locker Room
Equipped with taken return coin lockers and showers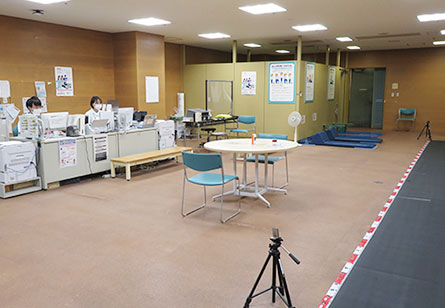 Health Check Room
Public health nurses are stationed to conduct simple health assessment and check physical condition of training users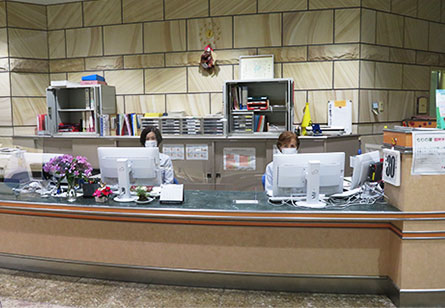 Health Promotion Wing Reception
Providing guidance and reception, as well as accepting reservations at the Health Promotion Wing. Feel free to contact us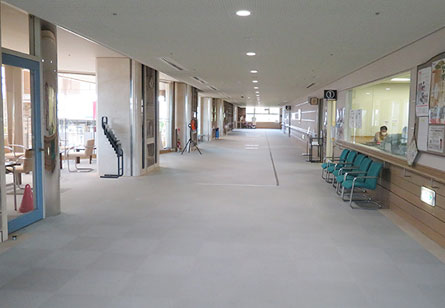 Examination Floor
Performing medical checks (blood, electrocardiography, bone densitometry, dental checkup, etc.), lifestyle checks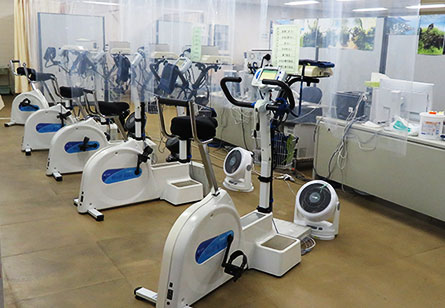 Examination Rooms
Physical Strength Measurement Room
Performing exercise electrocardiogram, physical strength measurement such as whole body endurance and muscle strength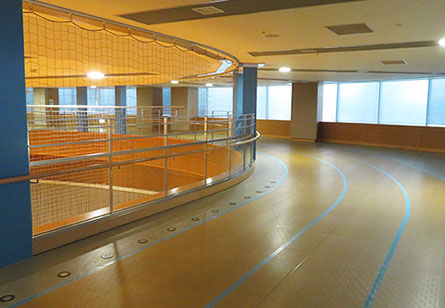 jogging track
About 180 m per lap indoor track specially processed to suppress impact on the knees and heels
Provided facilities include the hotel, restaurants, natural hot spring available for daily guests, as well as venues for meetings and banquets.
Available for companies, schools, and groups as well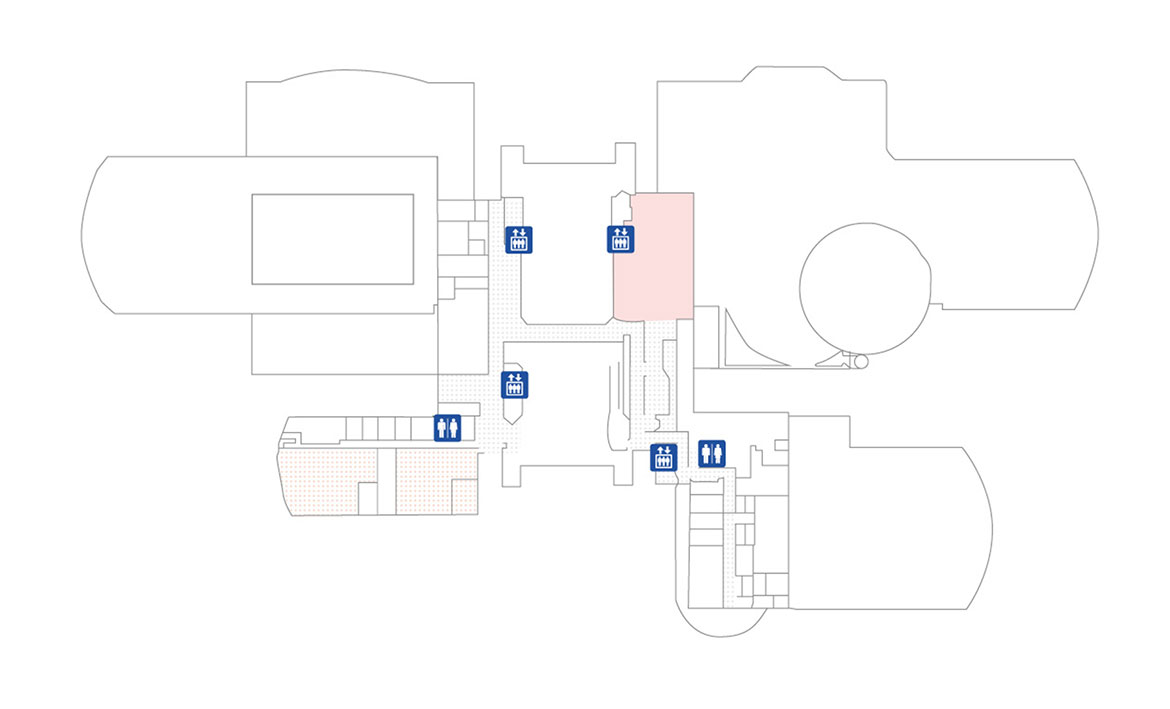 Hana-no-Ki Restaurant

Mori-no-Yu Resting Room
Health Accommodation

Wing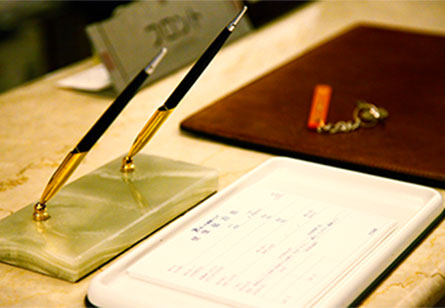 Front Desk
Guests who wish to use accommodation, various halls or meeting rooms are required to check in here. When at the Health Accommodation Wing, please use the variety of services available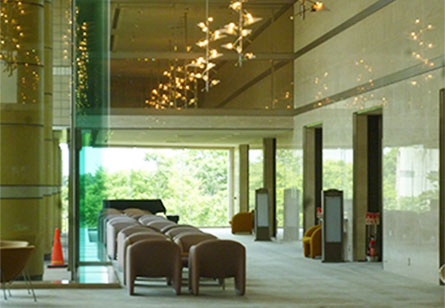 Foyer
When using the Plaza Hall, these may also be used for reception purposes and similar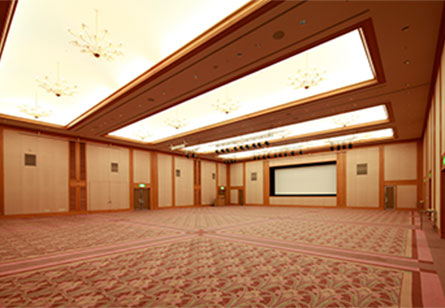 Plaza Hall
Available as venue for curatorial arts, lectures, exhibitions, various events, etc., as well as reception and party venue. Accommodates up to 1000 persons, and can also be divided into 3 parts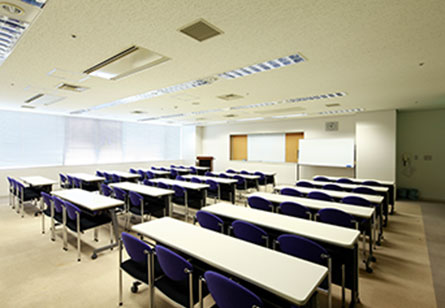 Conference Rooms ① to ⑤
There are 4 meeting rooms for 36 persons and 1 room for 50 persons. Available for a wide array of trainings, extra curricular activities, etc.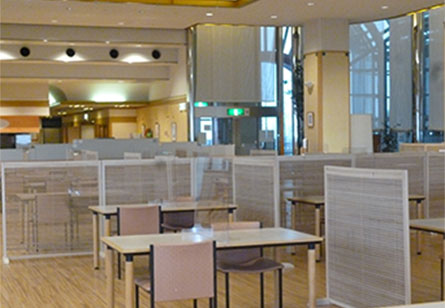 Hana-no-Ki Restaurant
Delicious dining amidst spacious surroundings with a great view and seating capacity for 160 guests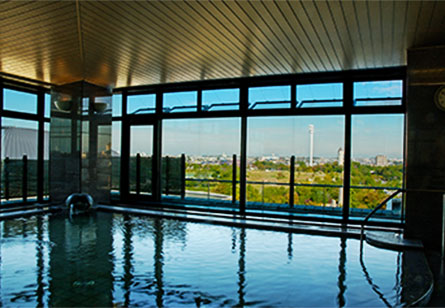 Mori-no-Yu Natural Hot Spring
Hot spring originating on the premises. Providing a large bath, sauna and water bath for guests staying overnight. Additionally, daily guests are welcome as well.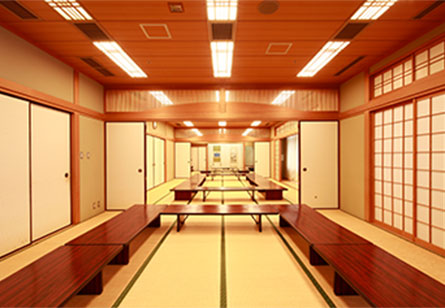 Japanese-Style Banquet Room
Available for different groups, such as enterprises and various societies. Karaoke are available as well, while the space may also be used as a dining venue for groups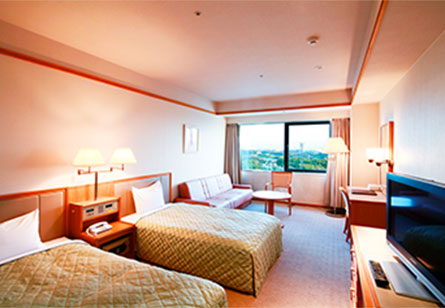 Rooms (Western-style)
Guests may chose between single, twin, suite and accessible rooms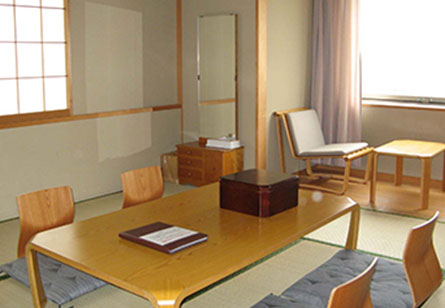 Rooms (Japanese-style)
The room size is 8 tatami. The room can accommodate 1 to 4 guests, and it is recommended for single staying guests as well as groups.
Closed Facilities
Please note that the following facilities shall cease to operate as of September 30, 2020.
Health Education Wing
Cooking Room
Information Library
Heated Pool
Relaxation Room